Stress, Anxiety and PTSD: Learning to Live in the 'Now'
Angela Brittain was privileged to present a stress/anxiety briefing for the 82nd Chemical Battalion and 3rd Chemical Brigade at Ft. Leonard Wood, MO. The briefing titled "Winning the War in Your Soul," encouraged our Soldiers to remain constant no matter what the circumstances are around them. She emphasized the importance of staying in the "now" versus falling into fear.
"You get into fear when you start thinking about the uncertainty of the future," Brittain says. "Likewise, you get into fear when you start dwelling on the pain or regrets of the past." Focusing on staying in the present can help us keep from being at the mercy of fear. This can be particularly difficult when a person is dealing with past trauma such as experiences from a war zone, living though a natural disaster,  suffering from sexual assault or abuse.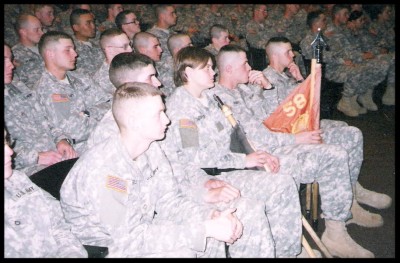 "These types of events perforate our soul and create an opening that makes us vulnerable to fear, anger, depression, or hopelessness," Brittain says. "But through Jesus Christ, we can be put back together in such a way that we don't consistently relive those traumatic experiences. We can see those situations for what they were, learn the truth about them, and heal our memories so that we are free to live to our potential in the present. Because if our past is affecting our present, then it isn't our past!"

Dr. Bridget Cantrell, psychologist, author and PTSD expert (www.bridgetcantrell.com) and Army Chaplain Chuck Dean have stated that PTSD isn't a disease or an illness. Instead, it is a normal response to abnormal circumstances. The human body wasn't designed to endure such horrors as war and abuse. But because of the world we live in, we experience these atrocities and our soul (mind, will, emotions) just kind of goes into overload. We begin having intrusive thoughts, nightmares, panic attacks, flashbacks, etc., that take us right back to that moment to relive it again and again. So what is the answer?

One of the ways to defuse the memories is to expose them. I've heard it said that you are only as sick as the secrets you keep, but revealing is healing! When you bring the event into the light, darkness loses its power. The enemy would have you keep the memory under lock and key in the fortress of your mind. But Paul tells us that light and darkness can't coexist. Darkness loses its power when you turn on the light. Exposing it through talking to a trusted counselor or peer, and releasing it from the confines of your memory, allows your soul to be restored. 

The word restoration in itself means to be put back together to its original state. We can infer that this means "before the trauma." And if it's before the trauma, then those memories aren't going to continue to wreak havoc on your soul. You may still remember that place, but it won't be so painful. I think of it much like a scar reminds you of a past wound or surgery. You see the reminder…but it doesn't hurt anymore.

We encourage you to order the teaching, "Winning the War in Your Soul" so you can gain some valuable insight into how to dominate your mind, will and emotions instead of becoming a victim to your thoughts and imaginations. Another teaching titled, "Don't Let Anxiety Steal Your Joy" informs us of the weapons God has given us to protect our joy from anxiety and fear. Order yours through the 
Panic Attack Online Store
, or print and mail the order form to get your copy.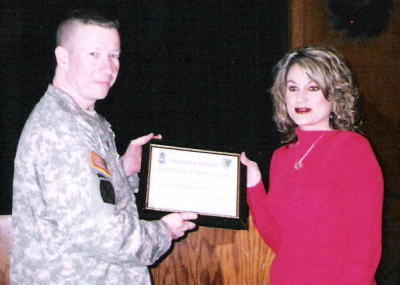 ​​

While at Ft. Leonard Wood, author Angela Brittain received a Certificate of Honor and a Coin of Excellence from Battalion Commander LTC Bret Van Camp. She also received the Brigade Medal of Honor from Brigade Commander COL Leslie Smith.
Additional Resources to Help with PTSD Recovery
For any Veteran or Veteran's family member struggling with the symptoms of PTSD, please check out the wonderful book called 
Tears of a Warrior: A Family's Story of Combat
. Written by Janet and Anthony Seahorn, the book chronicles the residual, unseen but very real effects of war. If you are a Veteran or family member struggling with PTSD, or you are a service provider, visit the
Military Order of the Purple Heart site
to order the book and only pay shipping and handling fees.